Christina Pappion is a Live Wedding Painter, Reception Painter, and New Orleans Artist
Contact Wedding Painter
I would love to hear from you and work with you! Please email me and let me know how we can possibly work together. For date availability you can also text 985.606.9966! PLEASE INCLUDE VENUE LOCATION< DATE AND TIME:)
Christina Pappion is a live wedding painter and reception painter. She is based as a New Orleans Artist but travels anywhere!
DO YOU HAVE ANY QUESTIONS?
A Frequently Asked Question
Where is your pricing information for live paintings?
---
Click at the top of the menu where it says Live Paintings and scroll down.
---
My wedding already past and I didn't have a painter, do you paint something after the fact?
---
Yes! This is called a wedding recreation. Check it out here: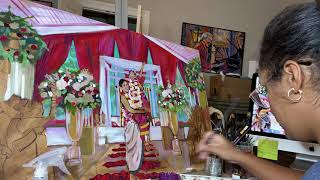 ---
What if I want you to paint someone live at my wedding who is deceased?
---
Check out a live painting where I painted the groom's deceased father. ---
Do you paint family and dog portraits?
---
Yes, I do please email me and I can give you a quote. Below are some of the recent family portraits I have created.
---
How do I book you? How do I make sure no one takes my date?
---
You will need to email first and check on availabilty. Once I confirm the date is available I will send the agreement and link for deposit in an email :)
---
---